With as much lead-up and hype to Sunday's NFC Championship game between the Green Bay Packers and the Chicago Bears as there has been, one would certainly have more than enough reason to tune into Sunday's quest for NFC supremacy.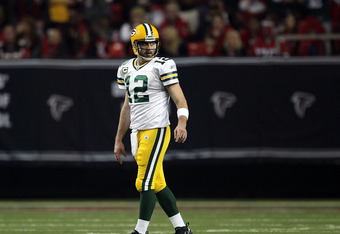 Well, it's true -- and that's only the gist of what is expected.
The longest standing rivalry in NFL history, the Packers and Bears have been through many classic matchups and hard-hitting action. So, naturally, their 183rd meeting in Chicago on Sunday will be chalk full with prime NFL action and -- most importantly -- a trip to Super Bowl XLV in Dallas on the line.
However, with all the analysis and unneeded buildup to what will most likely turn out to be another vintage battle between the two NFC North heavyweights, where do the
fans
figure into things?
To make things as simple and as straight-forward as possible, here are five things fans should take notice to come Sunday afternoon.
1. Mike McCarthy's balanced attack
It's easy to see why Green Bay has been so decisive thus far in the postseason -- and it isn't solely due to Aaron Rodgers' success through the air.
The emergence of rookie tailback James Starks has proved vital to the Packers' playoff aspirations: yielding 189 yards on 40 carries through two games this postseason. However the statistics don't tell the tail of Green Bay's success.
Packers coach Mike McCarthy has preached about giving this backs enough carries to balance out the attack, while not distressing over the overall yardage gained.
The focus is simple for Green Bay: get James Starks the football early and often. And, when the time comes, power the ball into the endzone to RB John Kuhn inside the five yardline.
Still, Rodgers in the five-wideout shotgun formation has proved deadly to opposing secondaries this season. A formidable run game complements the passing attack for Rodgers, along with simplifying the rest of McCarthy's game-plan.
If Green Bay runs with authority, they should be fine.
2. Jay Culter's high-risk/high-reward contingency
It's amazing how much disrespect Bears quarterback Jay Cutler has been granted this season. In fact, a quick look at the numbers suggests his overall production in just his second year as Chicago's head man.
With over 3,200 yards through the air in the regular season, along with 23 touchdowns and a surprisingly impressive 86.3 quarterback rating, Cutler has obviously improved his game under new offensive coordinator Mike Martz.
However -- as I'm sure you're all aware of -- Jay has been known to make those hazardous, uneducated throws an elite quarterback would not have otherwise attempted.
Three things Green Bay's electric defense must do:
1. Pressure Cutler with the exotic blitz schemes shown in Saturday night's dismantling of Matt Ryan and the Falcons.
2. Mix up Clay Matthews' role within the defense. Matthews has been a force for the Packers in the pass-rush game this season -- and with Cutler anticipating Matthews pressuring on almost every down, the perfect counter could be to drop him back into coverage once in a while.
3. Tramon Williams must limit Johnny Knox out of big-play opportunities. Averaging almost 20 yards per reception, Knox knows when to hit the home run -- so what better counter than putting Williams on him the entirety of the contest?
3. Greg Olsen in Chicago's passing attack
Last week, Chicago showed how significant a threat their tight ends can be in their offense when given any room to maneuver. However, if there's one team who knows how to shut down big-time tight ends, it's Dom Capers and the Green Bay defense.
Olsen comes into Sunday's third meeting with the Packers looking to follow up a top-notch performance in the NFC Divisional playoffs against Seattle. He caught a 58-yard touchdown pass on the Bears' third play from scrimmage, added a 33-yard grab on Chicago's second TD drive, and went on to finish with three receptions for 113 yards.
If Green Bay can shut down Olsen for a majority of the game on Sunday, Jay Cutler will be severely limited during key plays.
4. Tim Mathsay vs. Devin Hester
It should be no surprise by now how much game-changing ability Chicago return-man Devin Hester maintains on a day-to-day basis.
However the one, simple thing Green Bay can do to extend their chances at victory can be to, well,
not
punt to him. Nevertheless, it's proved to be a much taller task to accomplish than previously thought.
Averaging over 17 yards per punt return, Hester can break away at any given time -- as he's proved to us all in the past.
When the Packers line up to punt Sunday afternoon, make sure to tune in; because it may turn out to be the game's most important play.
The outcome
Far be it from me to say that Sunday's NFC Championship game between two of the biggest rivals in the sporting world will be one of the most-watched games in NFL history; however that may just be the case.
For Jay Cuter and the Bears, its been a turnaround season for ages. From a disheartening 7-9 campaign in 2009, to an NFC North title in 2010, its safe to say Chicago has only begun what will become yet another competitive Bears squad that will challenge for the Super Bowl for many years to come.
But for Mike McCarthy and the Packers, Sunday's duel at the Windy City will serve as the official turnaround from the Brett Favre era.
Along with overcoming critical injuries to several Pro-Bowl worthy role players (including 15 total players placed on injured reserve), Green Bay has had it's hardships unlike any other team in the NFL. Yet, look where they are.
It's a credit to McCarthy and the entire Green Bay coaching staff how far they've reached and how much they've been able to accomplish with so many set-backs.
However, the issue at hand is the outcome of Sunday's football game. And with Rodgers making his presence felt throughout the league, along with a compelling defense led by the mastermind himself in Dom Capers, Green Bay has been untouchable so far this postseason.
Look for that to continue on Sunday as
the Packers beat the Bears 21-17.